Parking Information
Parking for the Zoo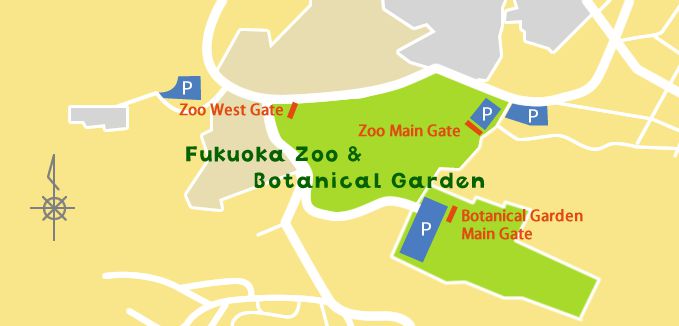 Regular-size cars: 500yen,  Mid-size: 1,000yen,  Large-size: 2,000yen
* A high volume of traffic is expected during weekends; the use of public transportation is recommended.
* Availability: Varies on weather condition; however, parking quickly gets filled around 10am to 11am.
on Sundays and national holidays during the in-seasons between March to May and September to November.
For all visitors
Please help us maintain it an enjoyable place by respecting all other visitors of the Park with your conduct.
Pets including dogs and cats are not permitted within the premises
Please refrain from feeding the animals.
Please refrain from damaging the plants and the trees. Please refrain from uprooting the flowers within the premises.
Please use the designated smoking areas when smoking.
Please take all of your trash home.
Please refrain from taking photos with flash on.
* Please be aware of bug bites during summer season.
Contact
Fukuoka Zoo and Botanical Garden General Information
092-531-1968

Postal Code: 810-0037
1-1 Minamikoen, Chuo-ku, Fukuoka